You may have heard a lot of people talk about dropshipping as a low cost and low risk way to start a business. This post will cover the basics on what dropshipping is and how you can quickly get started.
What is dropshipping?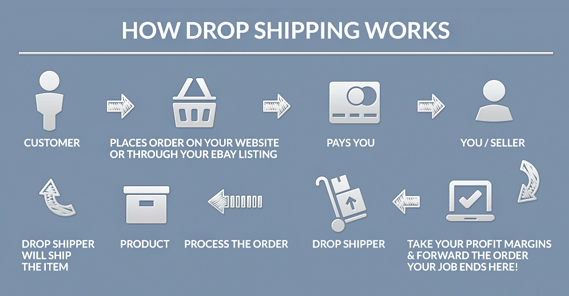 Dropshipping is a business model for selling online that allows a merchant to sell items without having to carry the inventory. The merchant would purchase the item from a third party every time they get an order, and the third party will ship the item directly to the customer. The merchant never has to see or handle the product.
You can already start to get the idea of why dropshipping can be an appealing business to start. You don't have the added risk of carrying inventory for long periods of time and you don't have to pay large upfront costs to purchase items in bulk, and pay for storage.
Dropshipping has both pros and cons, and is not without it's fair share of hurdles.
Pros of Dropshipping
Less capital is required to get started:
You do not need to get a warehouse, and hold big stockpiles of inventory. That alone will dramatically cut down your starting costs.
Low overhead costs:
You can typically get started with just a source of suppliers, and a website or online market place. This means lower monthly overhead expenses.
Flexible Location:
Because your business operates 100% online, you can work from anywhere as long as you have a good Internet connection.
Easy to Scale:
Your suppliers will be handling the packing and shipping to customers. This means an increase in sales will not require as much labor intensive work as a traditional retail business. Although you may have a required increase for customer support, the dropshipping business will typically be easier to scale.
Cons of Dropshipping
Inventory issues
It's typical for a drop shipper to source from multiple vendors, and it can be a challenge when inventory is not in your control. Sometimes the vendors can be out of stock and may not get new inventory for weeks.
Shipping issues
Shipping is also out of your control. Sometimes your suppliers will be overwhelmed with work and they may take a long time to ship out items. Sometimes you will have orders that have items from different vendors, and then the items will get shipped separately and will arrive at different times. This may throw off customers and cause some customer support issues.
Lack of quality control
Since you won't have the inventory on hand, you can't inspect the quality of the items being shipped. This may result in complaints about quality issues with some items.
How to Get Started
First you would need to create a store. There are many options for this, but I recommend Shopify.
One of the best platforms to get started with is called Shopify. Shopify is great for beginners because you do not need to be tech savvy or know any coding to get your own store up and running. There are many great themes on Shopify and they are all mobile optimized so that you can easily cater to mobile shoppers. They also have shopify apps that you can easily install for any extra features you may need. A lot of these apps do charge a monthly fee so be aware of that.
I currently run my dropshipping store on Shopify and it has been great so far. There is no need to mess around with maintaining servers, and managing all the tech related issues that can come up. You can simply create an account, get your theme set up and have your store live within 30 minutes.
Open your own Shopify store by clicking here.
Niche Store Vs. General Store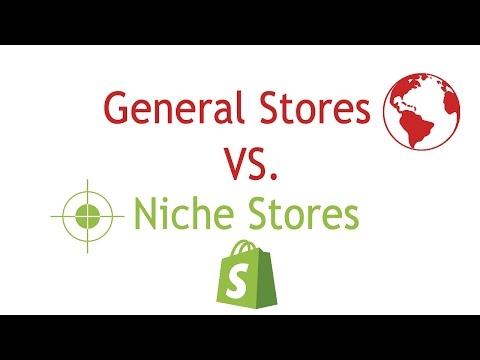 When you are creating your own store, you can choose to either have a niche store or a general store. A niche store would be more specialized in a specific category, whereas a general store would allow you to test many types of niches and products.
I recommend setting up a general store when you are first getting started. The reason for this is because you can then test lots of different niches and products until you hone in on a niche that works really well for you. At that point you can then set up a new niche specific store for the niche that is going well for you.
Suppliers
There are many different sources to dropship from. The easiest way for a beginner to get started is with AliExpress.
The reason I recommend AliExpress is because there are thousands of items to choose from, and it is easy to create an account and to have access to the inventory instantly.
When working with AliExpress vendors, always look at their feedback and check their seller ratings. You would ideally work with sellers who have diamond / crown ratings. Sellers with that have bronze, silver, and gold medal ratings are typically lower quality sellers. Always do your homework, and even communicate with sellers beforehand to see if you can get an idea of how well they will respond to your needs.
Get started with AliExpress by clicking here.
This is just a quick guide to get started with dropshipping. I plan to release more in-depth material in future posts so stay tuned!